International Relations
International activity
Altai State University is one of the most attractive universities in Siberia for foreign students.
In 2017 AltSU took the 4th place in the ranking of the most attractive universities in Siberia for foreign and nonresident students (according to the Expert-Siberia magazine).
The growth in the number of foreign students.
Over the past five years, the number of foreign students at ASU has been increasing annually. The share of foreign students studying at AltSU has grown 4 times compared to 2012. Currently, foreign students from 15 countries study at the University (mainly from Kazakhstan, China, Kyrgyzstan, Tajikistan), their number is 11% of the total number of AltSU students.
Altai State University is the head (base) university of the Shanghai Cooperation Organization University.
ASU is part of the SCO network University, which includes more than 70 universities in Kazakhstan, China, Kyrgyzstan, Tajikistan and Russia. At present, AltSU, together with partner universities in the SCO, is implementing joint educational programs in the following areas: Economics, Regional Studies, IT Technologies, Pedagogy and Ecology. This gives foreign students the opportunity to study free of charge under government quotas.
The possibility of free training for foreign students.
Citizens of Belarus, Kazakhstan, Kyrgyzstan, and Tajikistan can study at AltSU at the expense of budgetary allocations when they successfully pass the entrance examinations.
ASU is a center of Russian language.
The preparatory department offers a wide range of Russian language training programs for foreign citizens. The cost of training at the preparatory department is from $ 600 per semester. Upon completion of training, everyone can pass exams for the certification level of Russian language proficiency at the Testing Center at AltSU and enter any faculty of the University.
ASU provides foreign students with a comfortable hostel.
Foreign students are provided with a hostel that meets the requirements of safety and comfort, located in convenient areas of the city. The cost of living in a hostel is from 825 to 1,500 rubles per month ($ 15-25).
Association of Foreign Students.
The Association of Foreign Students was created at Altai State University, the activity of which is aimed at integrating foreign students into the socio-cultural life of the University and creating a tolerant environment for international communication.
High standards of education as a basis for successful employment.
Altai State University is characterized by high quality education and orientation of educational programs to the needs of foreign students. The most popular among foreign students are undergraduate and graduate programs in the areas of "Regional Studies of Russia", "Foreign Regional Studies", "Ecology and Nature Management", "Economics", "Linguistics", "Philology", "Applied Informatics".
Department of International Relations
If you need a student visa to enter the territory of the Russian Federation, a foreign citizen will need an invitation from AltSU. To obtain it, you need to contact the department of international relations, which provides visa and migration support for foreign students.
Address: Barnaul, Pr.. Lenina, 61, office 400
Phone: (3852) 29-12-53 E-mail:
oms@email.asu.ru
Opportunities for ASU students to study abroad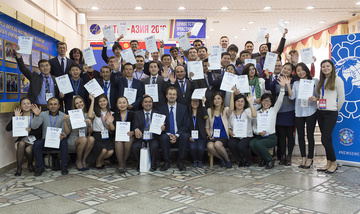 Altai State University is actively working on the implementation of joint educational programs and academic mobility programs for students in foreign partner universities. University students have the opportunity to undergo training and internships at leading universities in Germany, France, China, Japan, the USA, South Korea and other countries.
Joint educational program is an educational program implemented in conjunction with a foreign university, after which the student receives diplomas of completion of each of the universities. Altai State University is implementing 20 joint educational programs with leading universities in China, France, South Korea, as well as with universities of the "near abroad" in the areas of training: "Economics", "Regional Studies", "IT Technologies", "Pedagogy" and "Ecology" .
Academic mobility is an opportunity for students, graduate students and young scientists to continue their education or to gain scientific experience abroad by participating in a short-term educational or research program. AltSU has extensive experience in organizing academic exchanges; AltSU students are given the opportunity to participate in programs in Asian and European areas.
Department of International Educational Programs and Academic Mobility at ASU
Address: Barnaul, Pr. Lenina, 61, office 400
Phone: (3852) 29-18-44, 29-12-53
E-mail:
glushanina@mc.asu.ru
;
umd@email.asu.ru